06 February 2019
Elia supports the citizens' initiative Sign for my future
Yesterday marked the launch of Sign for my future. The aim of this citizens' initiative is to call on all Belgians to speak out in favour of a strong climate policy. Chris Peeters, CEO of Elia Group, is one of the campaign's 100 ambassadors. After all, the energy sector is making an important contribution towards society's decarbonisation.
Sign for my future is a major campaign aiming to collect as many signatures as possible so that the next federal and regional governments take the steps required to implement a strong climate policy. The campaign's initiators are calling for the Paris climate agreement to be respected and for efforts to limit global warming to 1.5°C. In Belgium too, according to Sign for my future, a great deal remains to be done if we are to become climate-neutral and appreciably reduce greenhouse gas emissions.

The campaign will run from February 2019 until just before the 26 May elections. In addition, there is a large group of citizens, company CEOs and leaders of civil society organisations who are taking active measures to sign the 'mandate'. The initiators are aiming not only to enthuse people, but also to better inform the general public about what a more ambitious climate policy entails and also what it means for the economy. It is a campaign run for and by young people.

Elia supports Sign for my future. Chris Peeters, CEO of the Elia Group, is one of the campaign's ambassadors.

"We have to make crucial choices for the future of our climate. Those choices need to be based on accurate figures and facts. So it's also important that Sign for my future is seeking to raise awareness among the public at large. But we also have to look at ourselves, because the energy sector is playing a central role in society's decarbonisation. From within Elia Group, we are actively working on the development and further integration of renewable energy into our European energy grid. In addition, thanks to digitisation, we want to give energy users a central place in the system and thereby make more efficient use of our energy."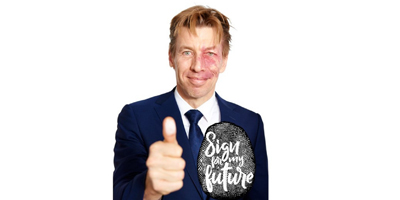 Marleen Vanhecke
Head of Communication & Reputation Elia Group