06 September 2019
Special memorial ceremony for the 22 workers shot dead at the power plant in Merksem during the Second World War
Seventy-five years ago, 22 workers at the power plant in Merksem were shot dead by German soldiers. During today's annual memorial ceremony attended by Elia staff, Merksem residents and the district authorities at the Elia site where the tragedy occurred, a special memorial plaque was unveiled at the war monument, bearing a poem written specially for the occasion by former Antwerp city poet Maarten Inghels.
Seventy-five years ago, on 6 September 1944, German soldiers massacred 22 workers at the power plant in Merksem where Elia facilities now stand. At the time, Merksem was in the line of fire between German soldiers at the Fort of Merksem and Canadian and British troops. The workers are believed to have been executed in retaliation for an earlier attack by resistance fighters in which three German soldiers were killed. You can read the workers' full story on a special page on the Elia website.
Every year, the Municipality of Merksem, the City of Antwerp and Elia organise a memorial ceremony for the victims at the monument at Elia's Merksem site. This year's event was particularly special because it marked the 75th anniversary of the tragedy. During the ceremony, the victims' names were read out and a poem by former city poet Maarten Ingels was recited. The poem, written specially for the occasion, has also been engraved on a new memorial plaque near the monument. After the ceremony, a wreath was also laid at the cemetery in Merksem.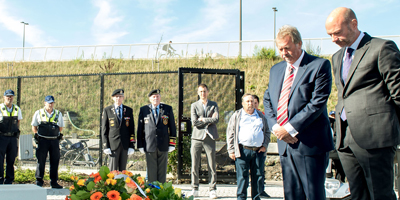 Marleen Vanhecke
Head of Communication & Reputation Elia Group