ALEGrO
The ALEGrO high-voltage line is a European interconnector linking Belgium to Germany and spanning a distance of 90 km, including 49 km in Belgium.

A key project for ensuring security of supply
The underground connection between the converter stations comprises two cables. Both cables, which measure 12 cm in diameter, will be buried along the entire route, thereby not impacting on the landscape.
The connection's transmission capacity will be 1,000 MW, equivalent to a tenth of Belgium's average power consumption.
In the interest of society

The ALEGrO project is essential for three reasons:

Security of supply
ALEGrO is one of a number of major projects aimed at sustaining Belgium's security of supply in the medium and long term. Interconnections with neighbouring countries must be strengthened because European countries need to be able to import at least 15% of their national output from (or export it to) their neighbours. The ALEGrO project will help to protect the grid against blackouts and power shortages at peak times.
Integration of renewables
EU requirements that green energy generation must meet at least 20% of the country's needs by 2020 may be ambitious, but Belgium is firmly committed to fulfilling them. The ALEGrO project will enable renewable energy to be harnessed and transmitted efficiently to consumers.
Price convergence
Opportunities for energy exchanges between Germany and Belgium may help to lower prices on the energy market.
The route

The cable connection will run from the existing substation at Lixhe to the E40 car park at Eynatten (Raeren).
ALEGrO will mainly use existing infrastructure (towpaths, motorways and Infrabel infrastructure). The route was selected from a number of options in consultation with the local authorities to have the least possible impact on local residents and the environment.

The best technology

To ensure optimal use of the ALEGrO interconnector, there must be some means of controlling energy flows. The high-voltage direct current (HVDC) technology used in the ALEGrO project is the most suitable way of doing this.
Environment

This project is vital for the community, and Elia is intent on implementing it in partnership with the local authorities to minimise the impact on local residents. The project partners have been cooperating closely on a daily basis since work began on the project.
Every effort is being made to limit noise and disruption while work is ongoing:

Mitigating the impact on mobility
Measures are being taken in conjunction with the relevant authorities (e.g. works departments, police) and local residents (e.g. laying down metal sheeting).
Curbing noise
Noisy work is only carried out during working hours (7 a.m. to 5 p.m.) unless otherwise agreed with the relevant authorities with a view to reducing the impact on mobility at specific times.

Once the project is finished, municipal and regional infrastructure will be restored to pristine condition based on a survey conducted before work began.

Schedule

Track progress on the project with our interactive map.

January 2018: work begins
End of 2020: work expected to end

Documents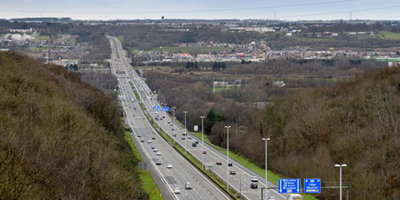 01 Mai 2019
Work begins at the Barchon rise on the E40
On Monday 13 May, work on the ALEGrO project began on the E40 in the direction of Aachen, between the Cheratte viaduct and Blegny exit.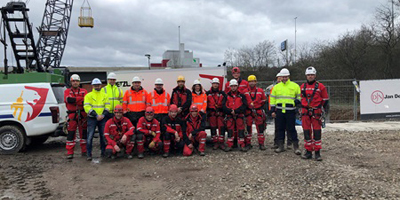 01 März 2019
Rescue drill in the microtunnel in partnership with GRIMP
On Saturday 16 March, Elia and 20 specialists from GRIMP (Groupe de Reconnaissance et d'Intervention en Milieu Périlleux, the Hazardous Environment Reconnaissance and Rescue Unit) practised carrying out a rescue operation in a confined space.
Contact us
If you are affected by a project and want to ask us something, please feel free to contact us.
Our team would be happy to help.