Elia starts cable work in Robert Dansaertlaan in Dilbeek
Elia started work on the cable connection in Robert Dansaertlaan in Dilbeek on 28 January 2019. This forms part of the new cable project between the high-voltage substation in Sint-Agatha-Berchem and the Bruegel high-voltage substation in Dilbeek. The work being carried out in Robert Dansaertlaan extends as far as Elzenstraat. You will find a map providing a detailed overview of the worksites below.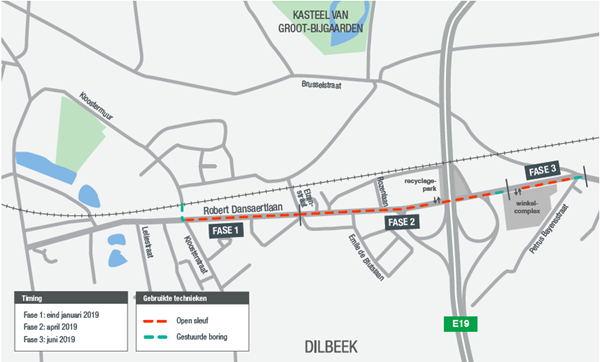 Lane towards Berchem-Sainte-Agathe to remain open
Throughout Elia's work, the carriageway of Robert Dansaertlaan towards Sint-Agatha-Berchem will remain open to traffic. If necessary, dynamic traffic lights will be installed to ensure a steady flow of traffic along this section of road. Elia is committed to limiting any inconvenience and impact the work might involve for businesses and residents of Robert Dansaertlaan. The contractor will contact shopkeepers a few days ahead of the work reaching them to look at how their business's car park can remain accessible. All homes will also be accessible in the mornings and evenings throughout the work.