Eizeringen-Wambeek 
Upgrading the 150-kV overhead line between the Eizeringen high-voltage substation and the 150-kV Ninove-Bruegel overhead line

Upgrading the overhead line between Eizeringen and Wambeek to continue ensuring security of supply in the region
Elia upgrades overhead line between Eizeringen and Wambeek with additional conductors
Benefits to society

With the Eizeringen project, Elia is upgrading the 150-kV overhead line between Eizeringen and the Ninove-Bruegel 150-kV overhead line in Wambeek by adding additional conductors to the high-voltage line. Elia will replace one pylon and upgrade another pylon near the recycling centre in Ternat to create a connection with the Ninove-Bruegel overhead line. Upgrading the existing overhead line is necessary to ensure security of supply in the region.

The route

Elia is upgrading the existing overhead line between the Eizeringen high-voltage substation and the Ninove-Bruegel 150-kV overhead line in Wambeek. This high-voltage line, which is a total of 2.8 kilometres long, generally runs along the Assesteenweg (N285) road in Lennik and Ternat.

Environment

Elia is taking a number of measures to minimise the impact of the project on local residents and the environment:

Work only takes place during the day, between 7 a.m. and 7 p.m.
Elia guarantees that homes and business will remain accessible at all times while the work is under way.
If local residents are set to experience a temporary increase in disruption for a specific reason, Elia or its subcontractor(s) will individually notify those affected.
Any necessary diversion routes will be decided in consultation with the contractor and the local police. Local residents will be informed as soon as Elia obtains the permit for the temporary traffic situation.
To ensure the safety and security of local residents and the environment, Elia will install temporary protective wooden frameworks or tower cranes near populated areas, train tracks and busy roads.

Schedule

September 2019: environmental permit
January 2021: start of preparatory work (pruning and construction work)
April 2021: start of work to upgrade the overhead line
August 2021: end of project

Documents
28 June 2021
The new pylon is in place at the recycling facility in Wambeek
There are now two large pylons standing right next to each other.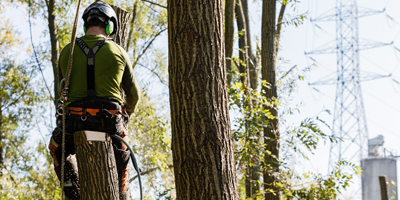 23 December 2020
Work on high-voltage cable between Eizeringen en Wambeek
Elia will cut down some trees at the recycling facility in Ternat from early January 2021 to create space for a new high-voltage pylon. Trees will also be cut back or removed at other locations below the overhead line. The aim of this work is to upgrade the overhead line between Eizeringen and Wambeek. To offset the trees lost, Elia will team up with the nature conservation organisation Natuurpunt to plant some new ones at another site.
Contact us
If you are affected by a project and want to ask us something, please feel free to contact us.
Our team would be happy to help.