Legal structure
Elia Group acts as a holding company owning Elia Transmission Belgium (Belgian TSO), Eurogrid International (comprising the activities of 50Hertz, the German TSO) and Elia Grid International (the Group's international consultancy branch). Its main shareholder is the municipal holding Publi-T. Elia Group (formerly Elia System Operator SA/NV) has been listed on the regulated market of Euronext Brussels, since June 2005.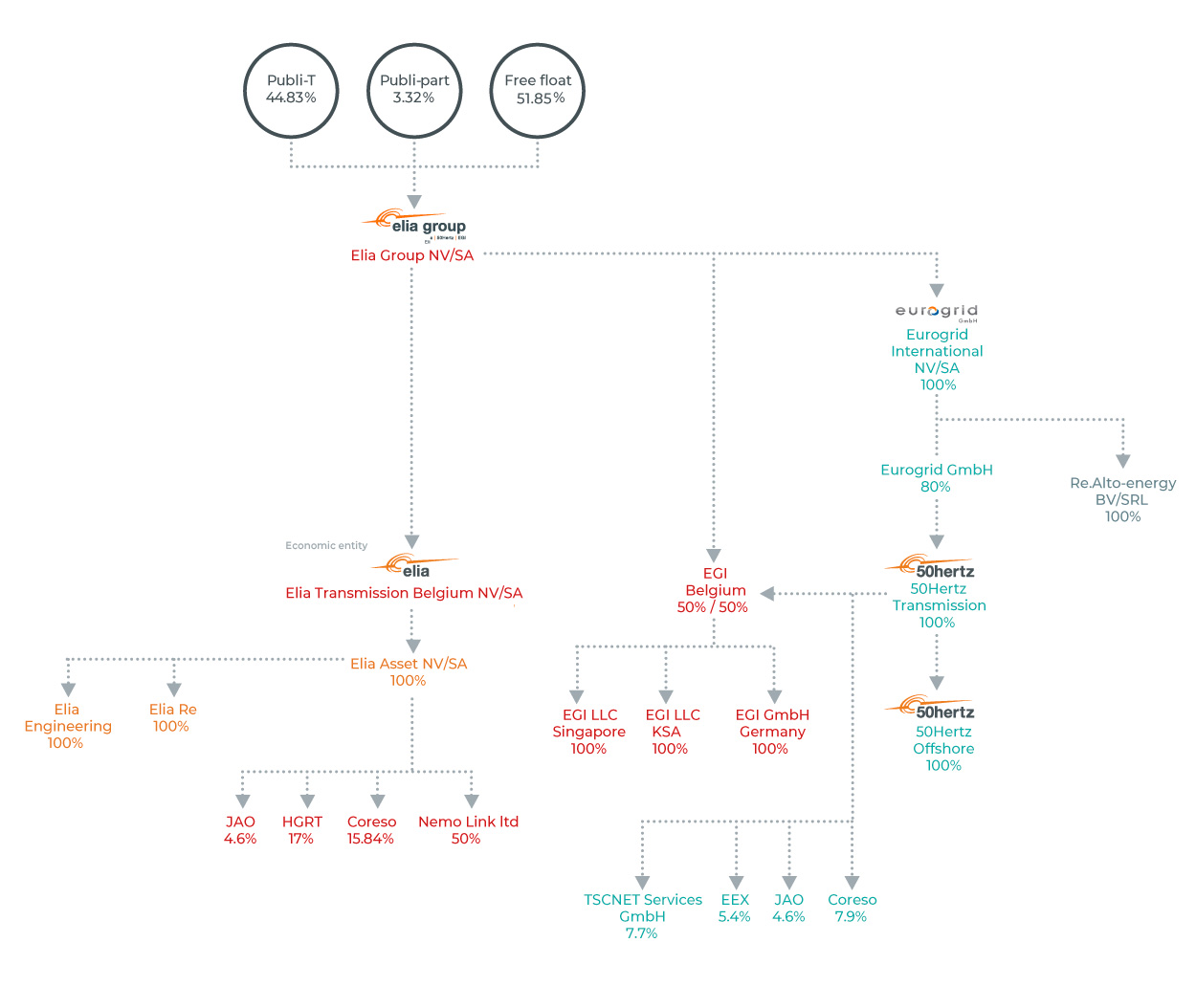 Please refer to the detailed shareholder structure for further information.

Elia Engineering is fully owned by Elia and is responsible for all engineering activities, while Elia Re is Elia's reinsurance company.


Elia Grid International (EGI)
is a 50/50 joint venture between Elia System Operator NV and 50Hertz Transmission GmbH.
EGI
offers supporting services and advice related to the electricity grid in Belgium. Its activities are considered to be non-regulated.
Elia holds shares in:
JAO, a joint service company of twenty Transmission System Operators from seventeen countries, responsible for the yearly, monthly and daily auctions of transmission rights on 27 borders in Europe. Acts as a fall-back for the European Market Coupling;
HGRT (holding des gestionnaires de réseau de transport), a shareholder in the French-based European power exchange EPEX Spot SE;
Coreso, the first joint regional technical coordination centre, shared by nine European transmission system operators. Coreso contributes to a number of EU objectives, namely the operational safety of the electricity system, the integration of large-scale renewable energy generation (wind energy) and the development of the electricity market in CWE;
Elia has a 80% stake in
Eurogrid GmbH
. The remaining 20% is held by the German state-owned Bank Kreditanstalt für Wiederaufbau («
KfW
»).
KfW
is one of the world's leading promotional banks. With its decades of experience,
KfW
is committed to improving economic, social and ecological living conditions across the globe on behalf of the Federal Republic of Germany and the federal states.
KfW
does not have any branches and does not hold customer deposits. It refinances its promotional business almost entirely through the international capital markets. In Germany, the
KfW
Group is represented in Frankfurt, Berlin, Bonn and Cologne. Its network includes 80 offices and representations around the world.
50Hertz owns the whole of the subsidiary 50Hertz Offshore, which is responsible for offshore grid development in its area of activity.