Covid-19: Elia's initiatives
As requested by the Belgian authorities, Elia is making every effort to ensure business continuity in this period. The Ministerial Decree issued on Wednesday, 18 March 2020 announcing additional measures to limit the spread of the coronavirus stipulated that the energy sector was critical. Elia takes this social duty very seriously. Maintaining security of supply and the health and safety of our internal and external staff and contractors are our main priorities.
Electricity: a critical sector

As requested by the Belgian authorities, Elia is making every effort to ensure business continuity. The Ministerial Decree issued on Wednesday, 18 March 2020 announcing additional measures to limit the spread of the coronavirus stipulated that the energy sector was critical. Elia takes this social duty very seriously. Maintaining security of supply and the health and safety of our internal and external staff and contractors are our main priorities.

By consistently applying the announced measures, we as a company and as individuals are jointly assuming our full social responsibility, thus protecting not only our families and ourselves, but especially other vulnerable groups. We feel a sense of solidarity with healthcare providers, victims and all those sectors that are under massive pressure during this crisis.

Internal task force supervises implementation of and compliance with more stringent controls

Within Elia, the implementation of and compliance with the enhanced coronavirus-related measures are coordinated by an internal task force comprising representatives of various departments. This task force is in close contact with management, and decisions are also discussed with the social partners. Regular consultations are held with the Belgian authorities, transmission system operators abroad and other companies in the energy sector in Belgium, such as the distribution system operators and the gas grid operator.

Although the Ministerial Decree of 18 March 2020 allows exceptions for critical activities, such as those performed by the electricity sector, Elia is making every effort to comply with the measures in so far as possible. Even stricter measures apply to critical jobs where working from home is not possible.

Elia staff are regularly sent communication updates. Tips for efficient teleworking are provided on the intranet, and a Q&A is available that provides answers to the most frequently asked questions.

95% of staff at administrative sites working from home at the height of the lockdown

While our staff are now gradually returning to work at Elia's various administrative sites, 95% of them mainly worked from home at the height of the lockdown. They did so in a disciplined way, with work continuing to proceed as normal whenever possible. Strict hygiene and social distancing measures now apply for those coming to work at the various administrative sites.

Additional measures at the national and regional control centres

The National Control Centre (NCC) and the regional control centres (RCCs) may only be accessed by a limited number of people performing essential roles. For the NCC this includes close-to-real-time engineers, system operators, planning engineers and duty engineers, while for the RCCs it includes dispatchers, planners and analysts.

Additional measures regarding hygiene and contact apply to control centre staff. They are not allowed to use public transport; Elia organises transport for them if they require it. Each control centre staff member has their own headset, keyboard and mouse. Before each shift, workstations and other surfaces used by more than one person (such as kitchen surfaces, coffee machines, door handles, switches, office chairs and toilets) are disinfected.

Review of construction and maintenance activities and other callout work in light of social distancing rules

Since the announcement of additional social distancing rules (social distancing of 1.5 metres), we have been thoroughly analysing our construction and maintenance activities and other callout work.

Activities continued where it was possible to comply with the social distancing rules and hygiene measures and provided there were no problems with the supply of materials and the availability of internal and external staff. To this end, strict rules have been developed that apply to both the company's own operational teams and external contractors. When reopening project sites, we prioritised security of supply, power grid security and connections for industrial customers.

We asked our contractors to perform a risk analysis for each of these sites and provided them with a template for this purpose. The template sets out the approach to be adopted and any changes to be made to working methods to meet the distancing rules. The project manager, in consultation with the contractor, then evaluated whether the proposed approach was sufficient for work to resume safely. To begin with, a number of pilot sites were reopened and closely monitored. The method was then gradually extended to other sites.

Events cancelled and information sessions postponed

Elia has cancelled all internal and external events until further notice. We are currently trying to work out what to do about information sessions for local residents. The new schedule will, of course, depend on how the situation evolves and the decisions the various governments take regarding permitting procedures.

Impact on electricity consumption

The implementation of social distancing measures to fight the coronavirus epidemic caused electricity consumption in Belgium to plummet, with the downturn progressing incrementally and in parallel with announcements by the National Security Council, hitting 17% on average in early April 2020. At certain times of day, the decrease was as much as 25 to 30%. With the initial easing of lockdown measures on 11 May and 18 May, consumption gradually began to rise. It has continued to increase since 8 June, with the level edging back to normal. It now stands at 5% below the average level for the last five years at this time of year.

Prices hit all-time low on the short-term market

The measures taken to combat coronavirus impacted the price of electricity on the short-term market (day-ahead market), with this dropping to an all-time low of €14.70 per MWh in April 2020. Electricity generation was sufficient both in Belgium and neighbouring countries, but demand was down significantly. This trend, first seen in mid-March, intensified in April. Prices have gradually risen as businesses have resumed operations. By early June the average price was up to €22/MWh. The table and diagram below show the average monthly MWh price in recent years as well as the price trend this year compared with the average for the last five years.

Most of our activities kept going during the lockdown because of their socio-economic importance and our vigorous efforts to ensure business continuity. For this reason, Elia Group does not expect the situation to have a material impact on our financial results for 2020. Our cash flows and financial performance are largely guaranteed by the regulatory framework in which we operate. Consequently, Elia Group went ahead with proposing a dividend of €1.69 at the general meeting on 19 May 2020.

Potential decreases in turnover may temporarily affect liquidity needs. This is being monitored carefully. Depending on how long the coronavirus measures remain in force, we may also need to factor in delays in the implementation of investment projects. However, at present, such delays are not expected to have a significant impact on profitability. We are monitoring the situation very closely and doing everything we can to implement our planned strategy within the context as we know it.

Post-coronavirus measures

Since 8 June, the Belgian federal government has also adopted a new approach, with everything being allowed again except certain activities, such as close contact and mass events, which remain prohibited. The most important point for us is that working from home (for those jobs where this is possible) is no longer expected, but is still recommended.

Elia's special task force and management are pursuing this approach and have provided some guidelines to optimise working methods:

Increase in sites' capacity to 50%
In recent months, we have predominantly worked from home (whenever possible). In May, we embarked on a gradual and cautious return for staff to administrative sites and operational service centres, which have been completely transformed to comply with hygiene and social distancing measures.
Following the positive experiences of the past few weeks, and in another move towards returning to normal, our sites' capacity was increased to 50% of their usual level from 8 June onwards. All staff returning to the administrative sites are doing so on a voluntary basis and only if their personal situation allows this.
Balance between working from home and working in the office
Given the above, the right balance should be struck between working from home and working in the office, and so in this next phase, we would urge all of you to find the right mix between a few days working from home and a few days in the office. This will allow us to enjoy the best of both worlds, enabling us to maintain contact with colleagues and nurture the bonds between us. Every employee will need to work out for themselves what is feasible based on their own circumstances and discuss this with their manager to plan the best times for them to be in the office.

For the moment, Elia advises employees belonging to at-risk groups to continue working from home.
Trips abroad
Since 15 June, business trips between Brussels and Berlin have been allowed for all those who need to meet in person. This mainly applies to members of the Elia Group Committee (EGC), the local management committees and senior managers, as well as those holding Group positions. Other employees may also travel from one country to another if they need to meet others face to face. Business trips to other countries in the Schengen area are allowed if there is a real need and only following authorisation by senior management. Intercontinental travel is not yet allowed, but this is currently under review.
Corona - Handy toolkit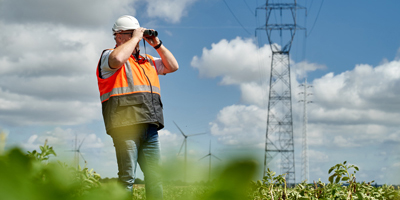 For reopening project sites, Elia provides specific instructional materials, including a process definition for site start-up, a checklist, a risk analysis and a Q&A.
Watch the KanalZ report
KanaalZ report to learn how Elia applies strict measures to ensure employee safety while keeping the lights on.