A12 and Noorderlaan temporarily closed in late April
As part of the Brabo II project, Elia will be disconnecting and removing high-voltage lines at various times over the coming weeks. To carry out these works safely, Elia will need to close the A12 motorway and some of the surrounding streets to traffic at various times.
Elia will take down the high-voltage lines above the A12 motorway in Zandvliet during the night of Wednesday 24 April to Thursday 25 April. This will require the A12 around the Zandvliet interchange to be closed between 11 p.m. and 5 a.m. in both directions. At the Zandvliet interchange, traffic can continue to use the roads running parallel to the motorway, although these roads will also be completely closed eight times during the work (for up to 15 minutes each time). Temporary traffic lights will be installed to direct traffic on these parallel roads.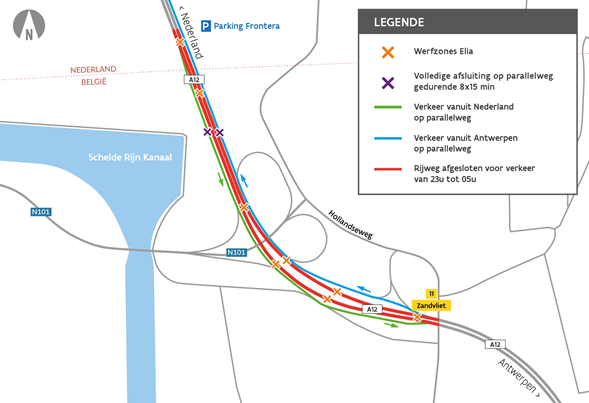 During the weekend of Saturday 27 and Sunday 28 April, Elia will install a crane in Blauwhoefstraat in order to take down a high-voltage pylon. To erect the crane, Elia will need to close Noorderlaan and Blauwhoefstraat in both directions from 7 a.m. on 27 April to 5 p.m. on 28 April between the R2 slip road and the intersection with Moerstraat. Noorderlaan will then be re-opened to traffic. Elia will take the crane down over the weekend of Saturday 11 and Sunday 12 May. Noorderlaan will again be closed to traffic for that entire weekend. Blauwhoefstraat will remain closed to traffic for the duration of work to dismantle the high-voltage pylon, from Saturday 27 April to Monday 13 May.
Throughout the weekend, traffic from and to Noorderlaan will need to follow the diversion via the A12. This traffic can use the Ekeren interchange (junction 16) and the Kanaaldok B1/B2 interchange (junction 13). Businesses situated north of the R2 slip road and south of the Moerstraat intersection will remain accessible at all times. Cyclists and pedestrians will not be affected by the works.