Herentals-Heze project
New underground cables between the Herentals high-voltage substation and the Heze high-voltage substation in Geel with an additional connection to the Umicore site in Olen
New underground cables are needed to continue to guarantee a reliable power supply to the region
Elia is planning to lay new 150-kV underground cables in Herentals, Olen and Geel.
In the interest of society

Elia is planning to lay new 150-kV underground cables in Herentals, Olen and Geel, to enable an expansion and restructuring of the electricity grid. This is necessary to prepare the grid for increasing energy demand in the area. The project will allow Elia to continue guaranteeing a reliable electricity supply for businesses and households in the region in the future.
The route

The 150-kV underground cables will be laid between the high-voltage substation in Herentals and the Heze high-voltage substation in Geel. The approximately 11-kilometre route runs through the municipality of Olen and the cities of Herentals and Geel. Elia is also planning an additional cable connection to the Umicore site in Olen from the Herentals high-voltage substation, a total distance of one kilometre. The routes of both underground cables were established in dialogue with the municipal and city authorities concerned. The work will take place in phases.
Environment

Elia is always mindful of the local area when carrying out work. The high-voltage system operator takes a range of measures intended to minimise disruption and impact on the surrounding area.

Work only takes place during the day, between 7 a.m. and 7 p.m.
Elia guarantees that homes and business will remain accessible at all times while the work is under way.
If local residents are set to experience a temporary increase in disruption for a specific reason, Elia or its subcontractor(s) will individually notify those affected.
If normal traffic has to be diverted, the diversions will be agreed with the road authority and clearly communicated to local residents.
Once work is complete, the land is always restored to its original state.

Schedule

June 2020: Public consultation as part of the environmental permit application
February 2021: Start of the work
June 2022: End of the work



Documents
01 April 2021
Work in Vogelzang, Steenovens and Buurtweg in Geel to start earlier than planned 
Elia is laying underground cables in Geel, Olen and Herentals. Work will start earlier than planned on 22 March 2021 in Vogelzang, Steenovens and Buurtweg 43.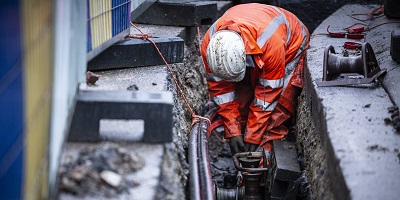 12 March 2021
Installation of underground power cables in nine phases: programme and overview
Elia is laying new 150-kV underground cables in Geel, Olen and Herentals.
Contact us
If you are affected by a project and want to ask us something, please feel free to contact us.
Our team would be happy to help.