Protective wooden frames over roads and homes
Elia is upgrading the high-voltage line between the Massenhoven (Zandhoven) and Van Eyck (Kinrooi and Maaseik) high-voltage substations.
The 92-km line will be equipped with a new type of conductor (HTLS) that can transmit more current. The preparatory work began in early February 2021. Starting in mid-March 2021, the contractor will install protective wooden frames at locations where the power line crosses a road or passes over homes. This will be done to protect the surrounding area and local residents when the new conductors are strung.

New type of conductor on an existing high-voltage line
The 380-kV Massenhoven-Van Eyck high-voltage line is part of the backbone of the high-voltage grid and will be equipped with a new type of conductor (HTLS) that can transmit more current. This will allow Elia to better distribute and transmit increased electricity flows throughout the country in future. The upgraded high-voltage line will also make it possible to exchange more electricity with the Netherlands. This is necessary to continue ensuring security of supply for the country.
Wooden frames protect the surrounding area
When Elia installs new conductors on a high-voltage line, the wires are pulled down, causing them to sag. That is why, before starting to work, Elia first installs protective wooden frames at any locations where the power line crosses a road or hangs over homes. The wooden frames provide protection for anything under the line, thus keeping the surrounding area and local residents safe. The wooden frames consist of at least two wooden posts driven into the ground or standing in concrete bases.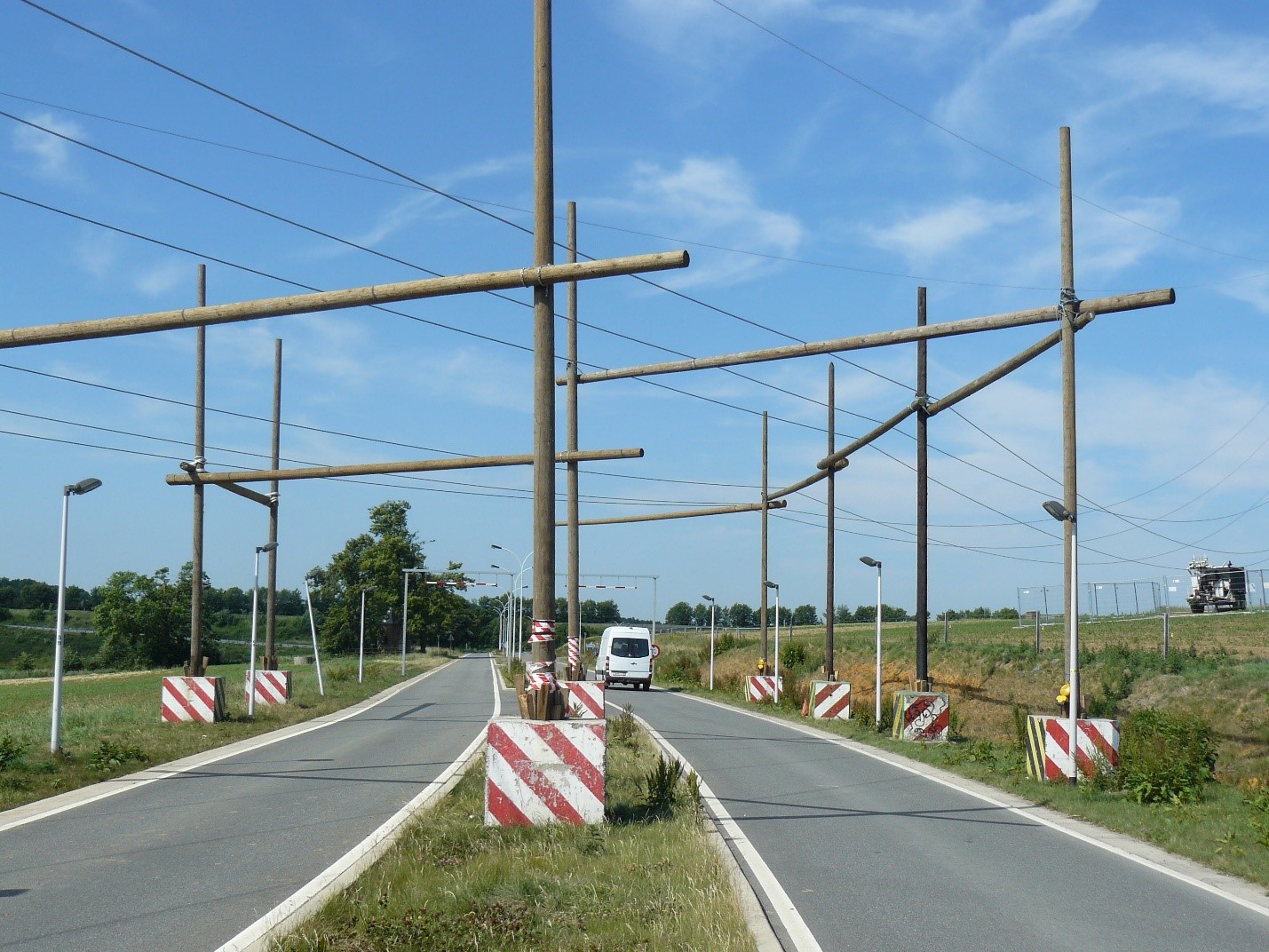 A beam connects the Protective wooden frames standing across a road - ©Elia
Do you live below the power line? The contracting company carrying out the work on behalf of Elia is responsible for obtaining the permits required to install the wooden frames. For work on private land, the installation of the frames will be discussed with the landowner. For work on public land, the contractor will seek permission from the road operator (either the municipal authorities or the Flemish government).

Temporary change in traffic rules

While the work is in progress, there may be a temporary change in traffic rules at those locations where the power line hangs over a road. This only applies when the protective wooden frames are installed and when the conductors are pulled down. Apart from these brief periods, the road will remain open to traffic under the high-voltage line at all times. Road users will be informed about any temporary changes in traffic rules and diversions via the appropriate warning signs.

You can find more information about this project and the project schedule here.