Why can't the high-voltage line be installed underground? 
Elia wants to upgrade a high-voltage line running through the municipalities of Kruibeke, Temse, Bornem, Puurs-Sint-Amands, Buggenhout, Londerzeel, Merchtem, Asse and Dilbeek. In light of the energy transition, this line will have to be able to transmit more electricity in the future.
Elia considered laying the line underground, taking into account this solution's technical feasibility, impact on the surrounding area and cost to society. Installing new conductors on the existing line emerged as the best option.
Upgrading our grid's north-south axis
The backbone of Belgium's grid is operated at 380 kV. This voltage level makes it possible to quickly and efficiently transmit large volumes of electricity throughout Belgium and to exchange power with neighbouring countries. The Mercator-Bruegel high-voltage line forms the north-south axis of our grid and needs to be upgraded in order to better distribute and transmit increased electricity flows and consequently secure the country's future security of supply.
Upgrading our grid's north-south backbone (380 kV) - © Elia
Underground alternative considered
The project environmental impact assessment (EIA) also looked into whether we could lay the line underground. However, laying a new underground cable was not considered a reasonable solution. As part of its commitment to a sustainable, reliable and affordable energy system, Elia strives for a sound balance between technical feasibility, impact on the surrounding area and cost to society. With this in mind, upgrading the current high-voltage line appears to be the best option.
Reliability of the high-voltage grid
Laying a 380-kV high-voltage line underground poses a number of risks. The electrical behaviour of underground cables differs from that of overhead high-voltage lines. This results in a loss of transmission capacity. To compensate for this loss, additional devices (e.g. coils) have to be installed at various points along the route.

The combination of cables and coils creates resonance similar to a radio where multiple jammers continuously change frequency. Cables and coils can cause disruption locally, jeopardising the stability of the entire grid. In addition, it is easier for Elia to identify faults and carry out maintenance on overhead lines.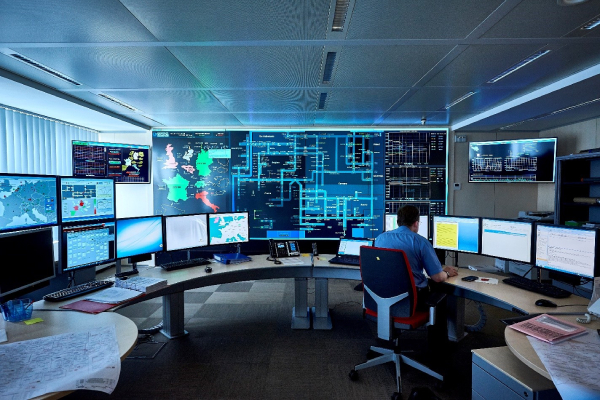 Control room monitoring grid stability - © Elia
Impact on the surrounding area
The conductors currently installed on this high-voltage line can be replaced with conductors that have a greater transmission capacity. This requires the reinforcement of the foundations and ironwork of 64 pylons and the replacement of six pylons. Such work will not take up any additional public space, which would have incurred more costs.

If we had opted for an underground solution, several cables would have had to be laid a certain distance from each other, given that they cool down less considerably. This means that an underground solution would require a worksite zone approximately 70 metres wide, an impossible requirement given the surroundings (villages, houses, landscape, etc.).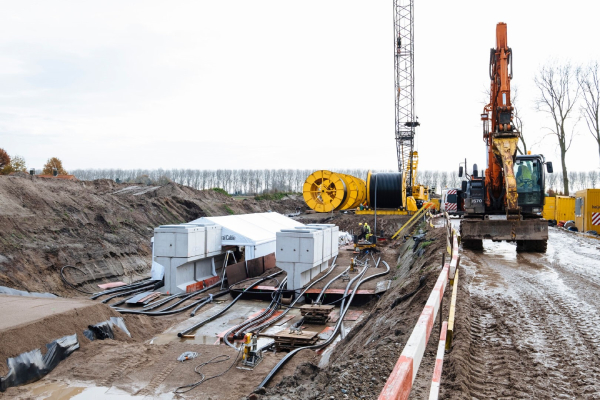 Spatial impact of laying underground high-voltage cables - © Elia


Investment and maintenance costs
The investment and maintenance costs of the high-voltage grid are borne by society via energy bills, as everyone who uses electricity at home or at work makes use of the high-voltage grid. It is cheaper to upgrade 32 kilometres of an existing overhead high-voltage line than to lay an entirely new underground cable.

Laying an underground cable is six times more expensive than an overhead solution, as it requires more cables and takes longer. The annual maintenance cost of an underground cable is also two to three times higher than that of an overhead high-voltage line.
Need more information?
In February 2021, Elia held a digital information session on the Mercator-Bruegel project. The video below provides comprehensive details about the project. You can watch a recording of the session here.