Quevaucamps-Harchies
The Quevaucamps-Harchies project entails rebuilding a section of the overhead power line between the Quevaucamps substation and Harchies along a new, improved route.

The Quevaucamps-Harchies project: an investment for the future
Bernissart has become more built up since 1962, and there are now houses very close to the line. Elia has therefore decided to rebuild this section of line along a new, improved route.
The new section is equivalent to the current 2 x 150 kV line and will be operated as a 2 x 70 kV line until at least 2030. Once the new section has been built, the line currently in use will be dismantled.
In the interest of society

To modernise a section of the current line: the conductors on this line, which date from 1962, are reaching the end of their useful life and therefore need to be replaced.
To ensure the grid's and local residents' safety: by modernising the infrastructure, Elia is ruling out the risk of conductor breakage and increasing the line's energy transmission capacity.
To standardise all overhead lines: the conductors along this section have a lower energy transmission capacity than the rest of the line. The new section will have conductors with a power transmission capacity compatible with the rest of the line and current standards.
The route


Replacing the conductors would require significant upgrade work on the current pylons. This would involve either:

Completely shutting down the line, which is not a viable option since the local electricity supply has to be guaranteed;
Installing temporary pylons, which is also unacceptable in view of the built-up setting.

As a responsible company anxious to improve local residents' living environment, Elia therefore decided to rebuild this section of line along a new, improved route that takes it as far away as possible from built-up areas.
Environment

As a responsible company, Elia is deeply committed to the environment and intends to make a positive contribution to the energy transition by focusing on biodiversity, local residents, local partners and stakeholders when developing its grid.
Elia also had an environmental impact assessment (EIA) conducted by an independent consultancy from March to June 2019 with a view to responding to all the suggestions made at the advance public information meeting, among other things.

Planning

19 March 2019: Advance public information meeting held in Blaton.
20 and 21 March 2019: Additional information meetings held in Harchies and Beloeil respectively.
March-June 2019: Environmental impact assessment conducted by an independent authorised consultancy.
July 2019: Planning permit application submitted to the Public Service of Wallonia (SPW).
September 2019: Public consultation.
2020-2021: Construction work on the new section of line.
2021-2022: Dismantling of the current section of line.


Documents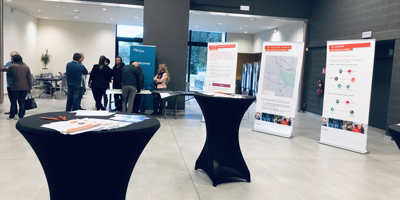 03 October 2019
Information session
The report on the Environmental Impact Study (EIS) conducted by CSD Engineers, an independent accredited consultancy, was presented at an information session in Blaton on 3 October.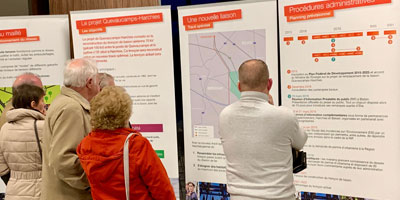 19 September 2019
Invitation to an information session
The session will be held on Thursday, 3 October from 6-8 p.m. at the Maison Rurale in Blaton (address: rue Emile Carlier 15, 7321 Blaton).
Contact us
If you are affected by a project and want to ask us something, please feel free to contact us.
Our team would be happy to help.