Presentation of project to local residents
The Quevaucamps-Harchies project reached an important milestone on 19 March 2019, when Elia held an advance public information meeting to present it to local residents.
The meeting gave attendees the chance to share their comments and suggestions about the optimised new route that was put forward. Their feedback will be taken into account in the
Environmental Impact Assessment, which will be carried out by accredited independent engineering firm CSD Ingénieurs.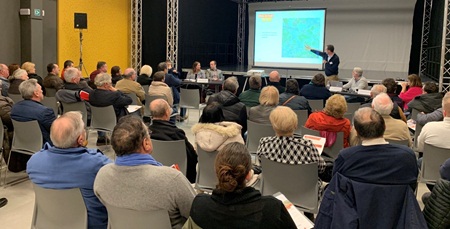 If you were unable to attend the meeting or the information sessions held on 20 and 21 March, do not worry! You can submit your comments, observations and suggestions any time before 3 April by sending them to Bernissart Municipal Council (Collège communal de Bernissart, Centre Administratif du Préau, Rue du Fraity 76, 7320 Bernissart), with a copy to Elia (Elia Asset s.a., Boulevard de l'Empereur 20, 1000 Brussels).
CSD Ingénieurs will address the specific concerns raised by residents' feedback in its Environmental Impact Assessment and will suggest reasonable alternatives.
Please feel free to contact the Elia team if you would like more information or if you have any questions.