Directional drilling under intersections on Maalse Steenweg
On Friday 15 May, Elia began directional drilling on Maalse Steenweg (N9) at the intersections with Assebroeklaan and Fortuinstraat. This means that traffic on Maalse Steenweg can continue to use these intersections during cable-laying work taking place in the middle lane. The drilling is currently scheduled to last until late May 2020.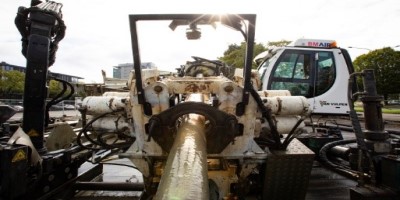 Work in Damme to start earlier than planned

Prior to the coronavirus measures, Elia was planning to begin cable work in your area in mid-October 2020. However, to help mitigate the impact of the coronavirus, work that is critical for accessibility and traffic flow will now be starting earlier than planned. Protecting the health and safety of all staff and of everyone in the surrounding area is our top priority here. As soon as more information is available, we will be in touch again with an updated schedule covering the whole of the works.
Overview of works in Damme
From mid-May 2020, Elia will be carrying out preparatory work on Maalse Steenweg, Vossenberg, Rijckeveldestraat, Zwinstraat, Kerkweg and Meibosweg in Damme. In a number of locations, short open trenches will be dug to install conduits. Elia will then backfill the trenches with soil and reinstate the road surface.
From Monday 25 May up to and including Friday 29 May, conduits will be laid on Rijckeveldestraat adjacent to numbers 4 and 2.
From Monday 1 June up to and including Friday 12 June, the contractor will be laying conduits on Rijckeveldestraat from the riding school up to and including the junction with Zwinstraat.
From Monday 15 June up to and including Tuesday 30 June, conduits will be laid on Kerkweg between number 23 and the junction with Meibosweg.
Temporary change in traffic rules on Zwinstraat, Rijckeveldestraat and Vossenberg from 25 May
From 25 May up to and including 12 June, the work area on Zwinstraat and Rijckeveldestraat will only be open to local traffic. During the works, through traffic will be diverted. Traffic travelling from Zwinstraat towards Bruggesteenweg will be diverted via Kerkweg and Dorpsstraat. Traffic travelling from Maalse Steenweg towards Vossenberg will be diverted via Bruggesteenweg and Dorpsstraat.

Temporary change in traffic rules on Kerkweg and Meibosweg from 15 June
From 15 June up to and including 30 June 2020, the work area on Kerkweg and at the junction with Meibosweg will only be open to local traffic. During the works, through traffic in both directions will be diverted via Dorpsstraat, Zwinstraat and Zomerstraat-West. These changes will apply until early July 2020.
Minimising disruption
The contractor and Elia will make every effort to minimise disruption. During the conduit installation work, a small number of residents may be temporarily unable to use their driveways. These residents will be personally informed by the contractor in good time and asked to park their vehicles elsewhere. All homes and businesses will remain accessible on foot. There will be no power outages during the works.