Tihange-Avernas
Project to regularise the permit for the existing 150-kV line.

As Belgium's transmission system operator, Elia operates the electricity grid to ensure it is reliable and to help ensure the country's security of supply, while complying with any and all legislation in force.
Tihange-Avernas line meets ever-present needs

Against the backdrop of the evolving energy landscape and in connection with the reconfiguration of the electricity grid in the Liège region, the existing 150-kV mixed line (overhead line, transition substation and underground cable) connecting the Tihange (Huy) and Avernas (Hannut) substations plays an important role.

Benefits to society

In fact, this line plays three key roles:

It supplies electricity for the Brussels-Aachen-Cologne high-speed train line.
It helps ensure security of supply in the region.
It enables the integration of renewable energies, thus contributing to the energy transition.

For these reasons, Elia wishes to regularise the Tihange-Avernas line planning permit that was cancelled by the Council of State in 2009.

The route

The Tihange-Avernas 150-kV line connects the Tihange (Huy) substation to the Avernas (Hannut) substation, covering 30 km and crossing through the territory of Huy, Amay, Wanze, Villers-Le-Bouillet, Braives and Hannut. It was built and commissioned in 2002.

Environment

As a socially responsible company, Elia is deeply committed to the environment. It contributes actively to the energy transition and is particularly concerned with preserving biodiversity. Elia also works closely with local authorities, local residents and all local stakeholders affected by its infrastructure projects as it expands and upgrades its grid.

As part of the Tihange-Avernas project, administratively regularising the situation requires starting a legal procedure to apply for planning permission. This means an environmental impact assessment must be carried out by an independent consultancy.

Schedule

22 November 2021: Advance public information meeting in Braives
23 November 2021: Information session in Wanze
November to March: Environmental impact assessment
May 2022: Submission of the planning permit application
June 2022: Public inquiry
December 2022: Decision by the relevant authorities

Documents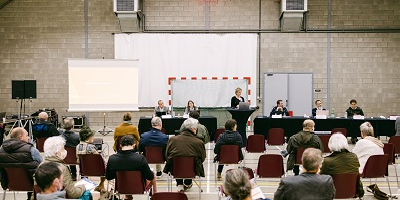 Tihange-Avernas
03 November 2021
Preliminary information session
The approval process for the planning permit relating to the Tihange-Avernas power line will follow normal procedures and will therefore include the organisation of a preliminary information session. This session will be organised in line with the following objectives:
Contact us
If you are affected by a project and want to ask us something, please feel free to contact us.
Our team would be happy to help.