Health and Safety
The safety of everyone, everywhere, is always our number one priority. We continuously invest in safety and work in a responsible and safe manner.
Together, we go for ZERO
Our goal is zero accidents. Every employee and contractor knows the principles of our safety programme. We ensure that Elia Group's safety instructions are properly applied in order to prevent incidents.
Electrical infrastructure is and always will be dangerous. That is why safety is our top priority in all that we undertake. Continuous development of technical, managerial and behavioural competencies is therefore a core responsibility of our Competence Centre.
On a managerial level, safety is the responsibility of the Chief Executive Officer, and part of executives' variable bonus is also linked to safety performance.
The GO FOR ZERO programme has five pillars:
1

People & technical Skills
In an ever-changing world, everyone needs to hone their skills constantly and learn continuously. The People & Technical Skills project aims to catalogue the technical and behavioural skills within Elia, then develop training paths to enhance these Elia skills.
2

Operational & Safety Excellence
Feedback, open dialogue and regular communication within and between teams are all absolutely vital if Elia's ambitious targets on safety, efficiency and operational quality are to be met. Continuous improvement entails researching and developing solutions to operational problems.
3

Operational & Safety Excellence with DSOs
Elia shares many high-voltage substations with distribution system operators. In view of this fact, Elia and its colleagues in the distribution sector decided to launch a project to enhance safety.
4

Safety for Contractors
In response to the energy transition, Elia is undertaking the most ambitious investment programme in its history. In cooperation with its contractors, Elia is striving to ensure that they too, have optimal safety and zero accidents.
5

Safety Leadership
Elia structurally implemented a management style that encourages employees to report risky behaviour and to work safely. Every manager must inspire and set an example, while also creating a climate of trust in which all employees adopt safety- oriented attitudes and behaviour and never compromise on safety.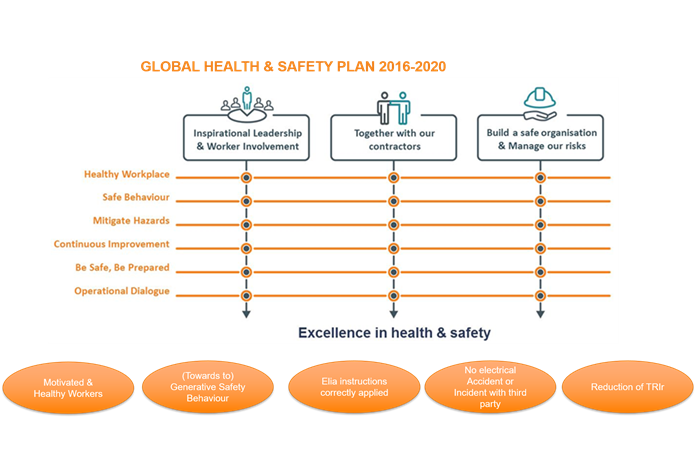 We are exploring the introduction of a health and safety management system.
Talks are on-going with 50Hertz experts on their experience in applying the OHSAS 18001 system.
Safety Weeks
Each year, Elia organises Safety Weeks for its staff in May and September in an effort to raise awareness about the importance of safety.
The programme included various communications, training sessions and team exercises, designed to ensure that everyone got involved and took the messages on board. In May 2018, the spotlight was on our "6 non-negotiables", i.e. behaviours that we no longer wish to see in the company. In September, we focused on "Safety on the road".
Safety training
Elia continuously trains its personnel. All field employees must follow a training path, which is periodically refreshed. Elia also provides raining material, training and tests to contractors (for instance, 1,290 people followed our new "Works Supervisor" training and tractors 1,041 passed the test and were certified).
Safety inspections
After a big increase in the number of inspections in 2017, the focus from 2018 on is more on the quality than the number of inspections.
Risk analysis
Via a thorough, systematic risk analysis Elia can take the correct measures and implement the right actions to ensure a preventive approach to safety and, where necessary, make improvements. We use measurable objectives and indicators that are stringently monitored and assessed.
Safety culture
Safety is a critical part of our corporate culture. Elia aims to develop a genuine safety culture, pursued by each and every person and department within the company. The concept of safety must be a reflex for everyone!
Ongoing training and awareness-raising are critical. Right from day one, Elia personnel are given thorough safety training to ensure that they respect their own safety and that of their fellow workers and the environment at all times. Special training is always provided when new working methods are introduced.