Hastière-Pondrôme
Upgrading of the existing overhead line

Elia plans to replace the overhead line between the Hastière and Pondrôme substations. Originally built in 1967 this line is now reaching the end of its life and must be replaced in order to ensure grid reliability and to continue contributing to security of supply in the region.
The upgraded line will follow the same route as the existing line. The new line will be built to the 110 kV size, which will be the new standard in the region (replacing 70 kV). This will ultimately make it possible to prevent grid saturation when factoring in the significant development of renewable energies which, by their very nature, are intermittent. Since electricity generated from renewable sources is highly dependent on weather factors outside human control, it is intermittent.
In the interest of society

This project addresses two major challenges:

Making sure we have reliable infrastructure that enables us to continue contributing to security of supply in the region;
Anticipating future trends in generation/consumption: this region is conducive to the development of renewable energy sources. However, since energy generated from these new sources is dependent on weather factors outside human control, it is intermittent. In the event of generation peaks, such energy must be evacuated in order not to saturate the grid. Upgrading the Hastière-Pondrôme line to a 110 kV size will meet this need. The upgrade from 70 kV to 110 kV in this area is in line with Elia's determination to upgrade an ageing grid and enable the integration of numerous renewable energies in the region.

The route

Environment

As a responsible company, Elia is deeply committed to the environment and intends to make a positive contribution to the energy transition by focusing on biodiversity, local residents, local partners and stakeholders when developing our grid. As part of the Hastière-Pondrôme project, collective and public initiatives will be proposed and implemented through environmental partnerships with a view to supporting local sustainable development.

Please consult our Compensation measures webpage for more information.

Schedule

August 2021: submission of the permit application
September 2021: information sessions for local residents
End 2021 – Beginning 2022: Permit decision
2022: Start of works
2025: End of works

Documents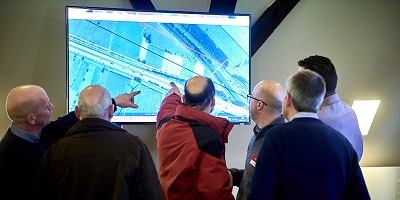 01 September 2021
Information sessions organised for local residents 
Local residents who would like to get more information about the Hastière-Pondrôme project can meet the project team during one of the three information sessions.
Contact us
If you are affected by a project and want to ask us something, please feel free to contact us.
Our team would be happy to help.