Ruien-Chièvres
Project to replace 150-kV overhead line between Ruien (in Flanders) and Chièvres with an underground connection 

Addressing an ever-present need
The 150-kV overhead line between Ruien (in Kluisbergen, Flanders) and Chièvres is nearing the end of its service life. Since it is necessary for the region's security of supply, Elia plans to replace the line with a 150-kV underground connection.

The current overhead line passes through the municipalities of Kluisbergen, Mont-de-l'Enclus, Celles-en-Hainaut, Frasnes-les-Anvaing, Leuze-en Hainaut, Ath and Chièvres.

Specifically, Elia is planning the following sequence:
Submit the permit applications for the underground connection project;
Once the permits have been secured, build the underground connection;
Dismantle the current overhead line.
Environment

As a socially responsible company, Elia is deeply committed to the environment. It contributes actively to the energy transition and is particularly concerned with preserving biodiversity. It also works closely with local authorities, residents and all the local stakeholders affected by its infrastructure projects as it expands and upgrades its grid.

An Environmental Impact Assessment (EIA) will be carried out by an independent consultancy firm following the Preliminary Public Information Meeting held on 22 September last.

During the works phase, Elia also makes every effort to minimise the impact of its infrastructure projects on the local environment in which they are located.

Schedule

The route

Documents

How does this 150-kV line relate to the 380-kV Hainaut Loop project?

A number of projects and administrative procedures are currently under way, or under preparation, in the Province of Hainaut, These projects have different but equally important goals, but it is important to distinguish between them.

The 150-kV line between Ruien and Chièvres is reaching the end of its life, but this has nothing to do with the Hainaut Loop project. Grid studies indicate that the Ruien-Chièvres line needs to be replaced regardless of what happens with the Hainaut Loop project. The 150-kV network in the region is nearing saturation point, so this line cannot simply be dismantled.

Consequently, Elia is currently studying the most logical route possible for burying the 150-kV line, completely independently of the ongoing application to revise the sector plan for the Hainaut Loop project.
22 September 2021
September 2021 – Ruien-Chièvres project: preliminary information meeting 
On 22 September, the Elia project team organised a preliminary information meeting and an online information session for members of the public.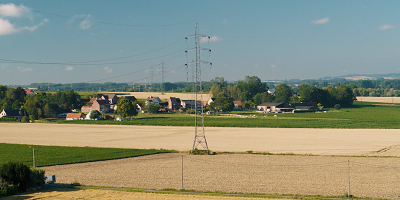 01 September 2021
Advance public information meeting on 22 September 2021
The technical and administrative study period for the project to replace the high voltage line between the Ruien substation (in Flanders) and the Chièvres substation (in Wallonia) is coming to an end.


Contact us
If you are affected by a project and want to ask us something, please feel free to contact us.
Our team would be happy to help.