Biodiversity and rehabilitation of natural habitats
It is possible to reconcile the transmission of electricity with biodiversity. Our European LIFE+ project proves it.
Project management in protected areas
A project management system for areas where environmental restrictions apply (e.g. woodland covered by the Forest Code, Natura 2000 and nature reserves) has been put in place to better take account of the environmental legislative restrictions relating to this area.
Therefore, Elia places special emphasis on the fauna and flora in the corridors below the overhead lines. The total length of the corridors in Natura 2000 areas is more than 320 km.
The LIFE+ ELIA project
For safety reasons, to prevent a fall or a short circuit, no trees are allowed to grow in the vicinity of high-voltage lines. Until recently, our maintenance policy for overhead lines entailed razing any vegetation within a corridor of roughly 50 metres beneath them. This policy is both expensive for Elia and does not exactly encourage biodiversity.
LIFE+ is a 5-year European project conducted by Elia to 'green' 150 km of forest corridors. Instead of ploughing up all vegetation with a rotary cutter every 5 to 8 years, Elia is restoring the land beneath these power lines, transforming it into more stable natural environments (like peatlands, forest edge shrubs, grazed pasture land, etc.) which will be easier and less costly to maintain and far better for biodiversity.
In summer 2013, the LIFE+ team simultaneously started work at several sites in the field, digging ponds, planting forest edge shrubs and so on. To find out more, watch the interview with LIFE+ project coordinator Gérard Jadoul.
Other communication campaigns aim to raise various target groups' awareness of the importance of taking biodiversity into account when managing vegetation. Training modules have been set up, leaflets have been published, and on the ground information panels will be set up and viewing platforms built. The project is a tremendous opportunity to showcase all the positive actions Elia is taking.
Setting an example for Europe
One of the aims of the project is to set an example for all other European transmission system operators (TSOs) and establish the first ecological network of its kind along the EU's 300,000 km of power lines.
Contact has already been made with the TSOs in 14 EU Member States that have shown the greatest interest in the project and its implementation in their own country. And interest is mounting all the time.
A 'guide to best practices' that will describe various ways of managing the aforementioned green corridors and highlight their financial benefits will be drawn up as part of the project. This 'vade mecum' will be used within Elia and distributed to the other European TSOs, among other ways via international associations like the European Network of Transmission System Operators for Electricity (ENTSO-E) and the International Council on Large Electronic Systems (CIGRE).
RTE, which manages the French power grid, is also one of the project partners and will assess the landscaping work done on the ground at 8 different sites (in the Aquitaine and Hautes-Alpes regions, Brittany, etc.). These sites were chosen not only because they are representative of the landscapes within RTE's territory, but also for their biogeographic diversity.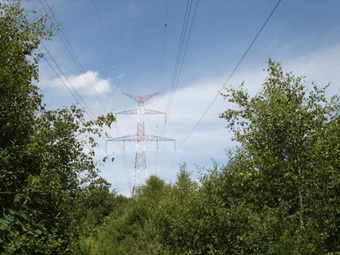 Landscaping the space beneath pylons
Keen to adopt a cost-effective, sustainable method for managing its pylons while strengthening the ecological network, Elia asked non-profit organisation Faune & Biotopes to implement biodiversity enhancement measures along the high-voltage line between Gramme and Achêne.
Keen to adopt a cost-effective, sustainable method for managing its pylons while strengthening the ecological network, Elia asked non-profit organisation Faune & Biotopes to implement biodiversity enhancement measures along the high-voltage line between Gramme and Achêne.
The section chosen for the enhancement measures implemented in 2016 covers the agricultural lands of the municipalities of Huy, Vierset, Tinlot, Marchin, Jallet, Ohey, Havelange, Hamois and Ciney.
The choice of landscaping at each pylon base is a compromise between biodiversity, landscape and the associated cost.
Enhancements are not appropriate for all pylons. In fact, the location of some pylons means that it is not possible or necessary to develop plant cover to boost biodiversity. This is the case with pylons situated along a boundary or hedge and those in grazed meadows.
The landscaping carried out in this section in 2016 includes 32 native shrubs and 7 fields of flowers. In late spring 2017, Elia checked that the seedlings were growing and the flowers were coming up. In autumn, we performed maintenance on the pylons where landscaping had been carried out and mowed the fields.
Protection of birds
Elia's environmental policy is aimed at preserving and enhancing biodiversity in Belgium. Elia has developed a specific policy for birds. The main objective is to reduce the number of birds that fly into overhead lines.
To this end, at Elia's request, Natuurpunt, Natagora and the Research Institute for Nature and Forest (INBO) have produced a risk atlas showing the places with the highest risk of bird collision. The new atlas – an update of the 2012 edition – shows that 325 kilometres of overhead line in Belgium currently pose a high risk to birds.
Elia is continuing its efforts to make these overhead lines safer so as to reduce the number of birds dying as a result of line collisions. In recent years, more than 50 kilometres have already been fitted with marking devices, including in the Ghent Canal Area, Bruges, Noordschote, Kallo and Harchies.
Read more about line markers here (in French)
In addition to making overhead lines visible, Elia takes account of bird nesting periods when carrying out work. Nesting boxes are also installed in places favourable to biodiversity. After analysis, Elia usually responds positively to requests for nesting boxes.
In some places, birds have the unfortunate habit of collecting in large numbers on lines, which causes inconvenience to local residents and presents other disadvantages such as paint corrosion. Elia does not have an immediate solution to this problem, but possible measures could include removing nearby food sources or using predators.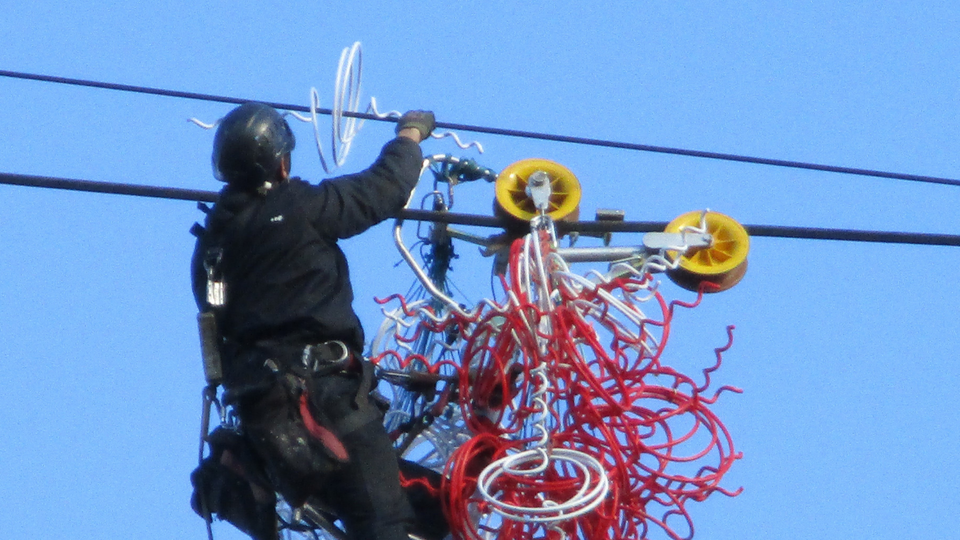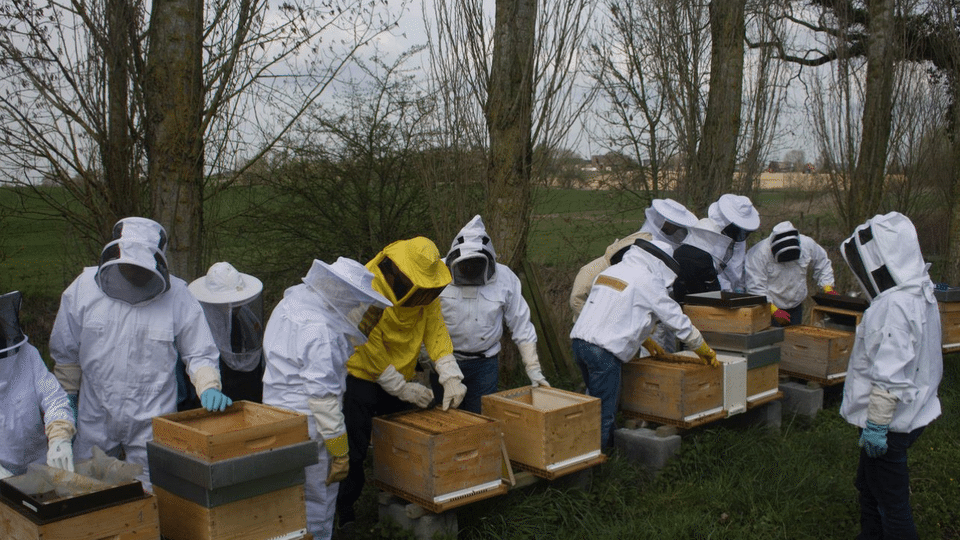 Beehives
In Europe, 84% of crops depend on good pollination. These crops generate, for example, biofuel, food for livestock and 30% of food for humans: fruit, vegetables, herbs and so on. Pollinator populations are currently in decline, which has a direct impact on human health.
In late November 2014, two beehives were installed at our Monnoyer site.
This project, run by Beeodiversity in cooperation with Brussels-based companies active in environmental protection, fits perfectly with Elia's commitment to corporate social responsibility. As well as doing its bit to help bees, the project includes a survey on biodiversity and the air quality in Brussels, based on the Bee indicator*. The project aims to tackle the reasons why pollinators are disappearing and improve their environment and ours.
Once a year, the honey harvested from the hives is sold to staff and the proceeds are donated to a charitable organization. In 2018, we will install three new beehives at our Créalys site near Gembloux, and in 2019 it will be the turn of the Merksem site to welcome bees.
Salamanders
The Mercator substation in the municipality of Kruibeke has become the home of a rare species of salamander: the great crested newt.
In late 2004, Elia, in collaboration with a colleague who volunteered at Natuurpunt, tried to develop the land to rehabilitate this rare species in the area. At the time, two ponds had been dug.
Now, 14 years later, a population of great crested newts has taken up residence under the Mercator substation. Flushed with this success, Elia and the environmental association Regionaal Landschap Schelde-Durme installed four more ponds.
In May 2017, the Kruibeke pond protection group organised a census of the substation's ponds. Many species of aquatic insect were identified and three different species of amphibian, including the rare great crested newt.
Conservation grazing
As part of the LIFE+ ELIA project launched in September 2011, Elia regularly partners with Belgian farmers, breeders and shepherds to maintain its electricity corridors in an environmentally friendly way by developing or protecting biodiversity under its lines.
1. Zutendaal-Maaseik 380-kV line

Elia has joined forces with the agency Natuur en Bos to promote biodiversity. Elia and Natuur created a 24-year management plan in cooperation with six municipal administrations and environmental associations, more than 130 landowners and a shepherd from the As region.

A herd of 250 sheep graze under the line – an 18-km green corridor with a width of 60 m (117 hectares) – replacing the mechanical maintenance previously carried out under the line.

2. Couvin – Neuville 70-kV line

Elia has developed a conservation-grazing project in Couvin in collaboration with the municipality itself and a shepherd from the region. The land under the line is maintained by around 70 sheep. The location is ideal because it is a unique area for flora, where a number of rare species may reappear as a result of conservation grazing.



Planting hedges and bushes around our facilities
Indigenous defensive hedges (hawthorn, dog rose and blackthorn) are planted each year around high-voltage substations to both merge the facilities into the landscape better and provide a habitat for the local fauna. Thorny shrubs also deter intruders. Almost 12 km of indigenous bushes (i.e. more than 40,000 plants) have already been planted around 17 of Elia's substations.
In many cases, when large-scale projects are carried out in highly visible areas, environmental impact assessments or town-planning permission applications are complemented by a landscape study that includes suggestions to merge facilities into the landscape better (by e.g. planting bushes).
Ground near substations and some plots of land within the substations have been redeveloped to provide a better habitat for biodiversity. For example, flowering meadows, bushes and verges have been planted depending on the surrounding landscape. In 2011, four areas of land totalling over 3,000 m² were developed in this way.