Diversity
Elia is committed to equal opportunities for all candidates, regardless of gender, age, background or religion.
Diverse staff
Elia has staff spanning a range of nationalities, age groups and experiences. Our activities require a multiplicity of talents, and we strive to form teams that excel at what they do. We believe that our teams are enriched by diversity. Because accountability and the good of the community are central to our culture, we aim to use our company's diversity as a tool for social and professional integration.
We also believe in giving a chance to young people and less young people, who can sometimes find it difficult to find a job on the market. Elia is regularly attending job fairs to meet future candidates from all educational backgrounds (engineers, technicians, etc).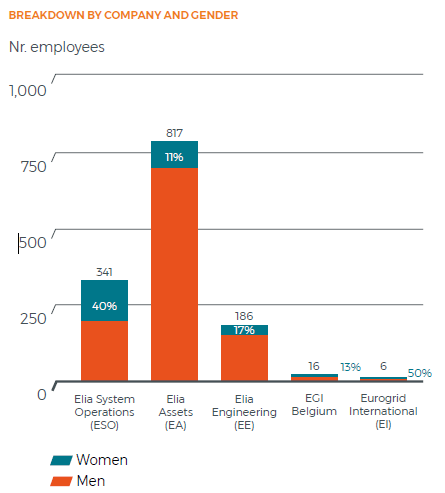 Breakdown by company & gender
Women are less represented in EA and in EE, two companies requiring a more technical background. Since these two companies provide most of the senior managers this leads to a lower percentage of women in those roles.
In the future, the Human Resources Department will work on developing a charter of diversity to enshrine our commitment to diversity and our principles.