04 June 2021
Elia Group presents its sustainability action plan: ACT NOW
In recent years, sustainability has become a core part of Elia Group's strategy. Our ACT NOW plan defines concrete and measurable objectives which outline how we will embed sustainability into our business processes in the years ahead.
This wide-ranging and multifaceted action plan includes five key dimensions which are each related to one or more of the United Nations' 17 Sustainable Development Goals (SDGs). The SDGs are a compass that will help us ensure that our daily processes and activities are being carried out with the right focus in mind.
ACT NOW focuses on five key dimensions which are aligned with United Nations' Sustainable Development Goals.
Elia Group is committed to driving the decarbonisation of the power sector and its own activities – and has set clear targets for itself for 2030 and 2040.
Numerous projects are being developed in collaboration with local partners to limit the impact of our infrastructure on the environment.
Health and safety, diversity and inclusion are key areas of interest for the Group.
Increasing our focus on good governance is essential for ensuring our sustainable long-term success.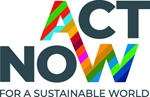 Marleen Vanhecke
Head of Communication & Reputation Elia Group