Work – ALEGrO
Throughout all its projects, Elia ensures that it takes all necessary measures to limit the work's impact, preserve the environment and maintain residents' quality of life.
Respect for the environment is our priority
The ALEGrO project requires a certain amount of work to be done. Every effort is being made to ensure respect for the environment at every stage of the project.
Converter station
The new converter station is located on land owned by Elia at Lixhe, next to the existing substation. Cutting-edge technology and equipment are being used to make the converter station as efficient as possible and keep noise and disruption to a minimum. The converter station will also be surrounded by trees to blend it into the landscape.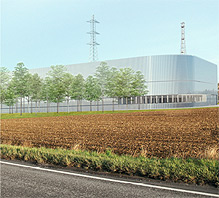 Three cable-laying techniques
Over most of the route, a trench 1.80 m deep and 1 m wide is being dug in sections, each measuring 1 km. On average, work on each section will last six weeks. This approach aims to minimise the impact on mobility and preserve the biotope.

Directional drilling is being used to facilitate digging under key pieces of infrastructure like intersections, interchanges or the high-speed railway line.

At the Cheratte viaduct, Elia is digging a microtunnel under the Meuse and the canal so that the cables can pass beneath them. The very latest techniques are being used for this project.
Organisation of the work
Respect for local residents and the environment is a priority for Elia. While every project is different and very much depends on the type of infrastructure involved, Elia always organises its work in collaboration with all relevant parties (including the contractor, the local authorities, the local police and landowners) and regularly updates local residents on the progress being made.
While work is ongoing, Elia implements a series of measures focused on three key areas: safety, noise control and mobility management.

Noise control

Noisy work is carried out during working hours, unless otherwise agreed with the relevant authorities with a view to reducing the impact on mobility at specific times.
Site vehicles only leave their engines running when necessary.

Site safety

Work areas are always marked out clearly and a site safety coordinator is always on hand to ensure that activities on the site run smoothly.
Furthermore, site meetings are held with contractors to discuss points for attention (e.g. itinerary, waste sorting).
When the existing line is being dismantled, safety gantries are put in place while the power cables are pulled to protect infrastructure along the route (roads and homes).

Mobility

If the work requires temporary road closures, appropriate diversions and signs are put in place in consultation with the local police.
Work-in-progress signs are erected in dialogue with the local police. These signs provide residents with all the information they need (in particular, the start and end dates for the work).
Elia strives to ensure that local residents always have access to their homes.


Contact us
If you are affected by a project and want to ask us something, please feel free to contact us.
Our team would be happy to help.